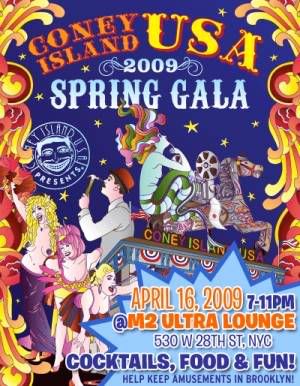 Coney Island USA Spring Gala!

Without a doubt CIUSA's annual Gala is one of the most exciting events of the season. Guests can expect a taste of all they've come to know and love about Coney Island. With dapper Sideshow stars, scintillating Burlesque cuties and a healthy splash of the odd, CIUSA's spring gala is one hell of a party in support of one hell of a cause. And at the end of the day couldn't we all use a good party right now?

The 2009 Coney Island USA Spring Fundraising Gala
Honorary Chair
Harvey Keitel

Thursday April 16th, 2009
7-11pm
M2 Ultra Lounge
530 West 28th Street
(btw 10th and 11th avenues)

With Festivities Including:
• The Cast of the Coney Island Circus Sideshow
• The Lucky Devil Thrill show with Tyler Fyre & Thrill Kill Jill
• Aerial Artistry by Ekaterina and Harvest Moon
• NYC's Finest Burlesque Stars including: Little Brooklyn, Trixie Little & Evil Hate Monkey, World Famous *BOB*, 2009 Miss Coney Island; Gal Friday and Jo Boobs with students from the New York School of Burlesque
• Fisherman's Xylophonic Burlesque Orchestra
• Featuring the Great Throwdini and Bulls-Eye!
• Knife in Your Name -A death defying fund raising feat by Dick D. Zigun & Throwdini
• Plus Little Jimmy's Mini Mermaid Parade!
• A stellar silent auction of art and curiosities
• Get your portrait taken in the photo studio!

Cocktails and Hors D'oeuvres will be served.




Tickets can be purchased at the door, online at http://www.coneyisland.com/benefit or by calling CIUSA directly at 718-372-5159.
• General admission tickets $100 ($80 tax deductible)
• VIP tickets $250 ($200 tax deductible)
The VIP ticket experience includes access to a private seating area with table food and drink service, goodie bag and meet and greet with our performers!

How else can I help support Coney Island USA?

Join the Host Committee!
Benefit Guests Joining the Host Committee is a great way to get involved and help support Coney Island USA. Host Committee members sell or purchase 5 Gala tickets and in return receives a free ticket to host their friends. Committee members will also be invited to a private dinner in recognition of their support and receive exclusive updates on Coney Island happenings throughout the year.
To Join the Host Committee contact Kate Bartoldus
e-mail: kate@coneyisland.com
phone: 718-372-5159

Sponsor a Knife In Your Name in our fundraising stunt- even if you can't attend the event!
http://www.coneyisland.com/knife

Donate!
Even if you aren't able to attend the gala you can still help support CIUSA's work. As a 501 (c)3 not-for-profit, Coney Island USA depends on your donations. Your gift of any size can make a huge impact on our artistic programs and is tax deductible to the fullest extent of the law.

To donate, send a check to:
Coney Island USA
1208 Surf Avenue
Brooklyn, NY 11224.